2017 NFL Draft Preview: Defense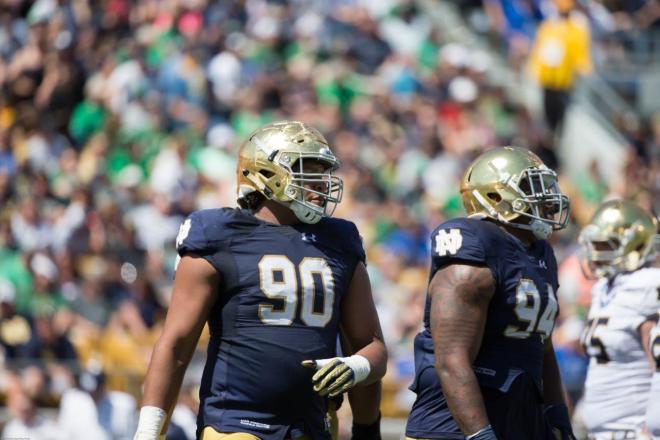 Notre Dame finished tied for fourth among college programs by producing seven NFL Draft picks this year, and next year's output could be just as impressive.
While the Irish are unlikely to have a player go in the top 10 again like offensive tackle Ronnie Stanley did, marking the first such player for Notre Dame since 1994, the potential draft class is deep.
"That's probably a year or two away where they're going to have premium draft picks," DraftCountdown.com analyst Scott Wright said. "It will certainly be a better class next year than Notre Dame had become accustomed to for a 10- or 15-year stretch."
In the second of a two-part series, Blue & Gold Illustrated takes a look at which players might headline the 2017 NFL Draft. Today, we examine the defense.
Isaac Rochell, DL
Rochell enters his third season as a starter this fall and his durability has been impressive since arriving at Notre Dame.
The McDonough, Ga., native figures to be a mid-round pick at worst, and could potentially have a ceiling in the first two days of the NFL Draft.
"Isaac Rochell is a player I'm intrigued by," DraftCountdown.com analyst Scott Wright said. "I don't know what type of upside he has in the draft with the type of player he is. He's not necessarily an elite edge pass rusher, but just a really good all-around player that gets better every year."
While Notre Dame has used Rochell in the interior at times, the coaching staff likes him best at defensive end in coordinator Brian VanGorder's 4-3 scheme.
Jarron Jones, DL
Jones received national attention in Oct. 2014 with his performance at No. 2 Florida State, which included a career-high three tackles for loss.
Jones' senior season ended before it began when he suffered a knee injury that wiped out his entire 2015 slate last August.
"Jarron Jones just needs to put together a healthy season coming off the injury," Wright said. "There's a player that has been dominant at times. There have been games where he's been downright dominant. At Florida State he was a man on a mission. He had a great game.
"He's got a huge frame. He's athletic. He offers some versatility. I think the biggest thing he needs to do is have a healthy senior campaign. It sounds like it's oversimplifying it, but that's really the No. 1 thing for him."
Cole Luke, CB
Like Rochell, Luke will be a three-year starter by the time he exits the program next winter. He has been battle-tested against some of the nation's top receivers, but has typically flown under the radar compared to former teammate KeiVarae Russell and his boisterous personality.
"There's not one thing I look at him and say he's awful at or he does this really well," Wright said. "He does everything pretty well from what I've seen. … Physically, he looks the part. He's a big corner. He seems to be able to run down the field with receivers. I think he's going to be in the mix to be among the top senior cornerbacks going into next year."
While it's difficult to envision Luke as a first-round pick, his senior season could pull him toward the top few rounds of the draft.
Max Redfield, S
It seems silly to even speculate on Redfield's NFL future considering an early-enrollee safety came in this spring and took some of the first-team reps away from the Mission Viejo, Calif., native, but he did enter Notre Dame as a five-star with a lot of potential.
At this point, there's no guarantee that Redfield's career enjoys a happy conclusion at Notre Dame, but certainly he will need to start this fall if NFL teams are going to entertain the thought of drafting him.
"I remember seeing last year people were touting him as a highly rated pro prospect," Wright said. "He's got that type of talent, but he's got a long way to go before he's highly regarded by the league. I think he's more of a late-round possibility."
James Onwualu, LB
Onwualu is a special teams standout and his top value at the next level might come in that department. He is a bit undersized at the Sam linebacker, but enters his third year as a starter in 2016.
There's a good chance Onwualu will be named a captain this fall and he does everything coaches look for in a player, but the Saint Paul, Minn. Native is probably looking at a late-round selection or undrafted free agent status.