2017 NFL Draft Preview: Offense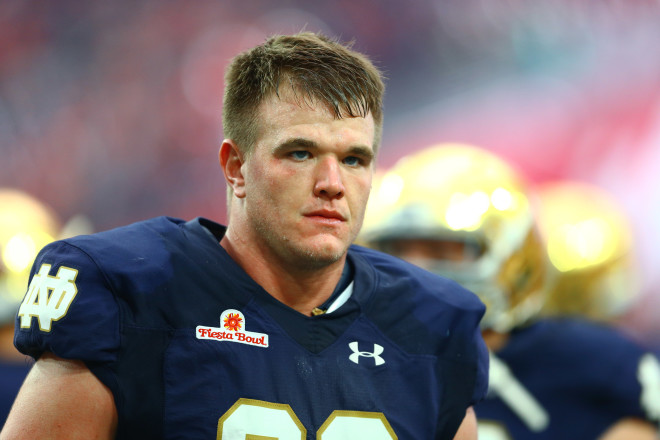 Notre Dame finished tied for fourth among college programs by producing seven NFL Draft picks this year, and next year's output could be just as impressive.
While the Irish are unlikely to have a player go in the top 10 again like offensive tackle Ronnie Stanley did, marking the first such player for Notre Dame since 1994, the potential draft class is deep.
"That's probably a year or two away where they're going to have premium draft picks," DraftCountdown.com analyst Scott Wright said. "It will certainly be a better class next year than Notre Dame had become accustomed to for a 10- or 15-year stretch."
In the first of a two-part series, Blue & Gold Illustrated takes a look at which players might headline the 2017 NFL Draft. Today, we examine the offense.
Mike McGlinchey, OT
Notre Dame has had a first-round pick protecting its quarterbacks at left tackle in each of the last six seasons, and the senior might be the next to extend that streak.
McGlinchey became a full-time starter in 2015 at right tackle and proved to be a worthy addition to the Irish starting lineup. Now, he's moving to left tackle to handle the opponents' premier pass rushers.
"He's a really intriguing guy," Wright said. "Obviously an extremely impressive frame. Exactly the type of length you look for at that position. It will be a good test for him to see how he handles left tackle. You think of Texas A&M and [first-round pick] Germain Ifedi, it was just assumed he'll go from right tackle and be the next great Aggie left tackle following Luke Joeckel and Jake Matthews. Well, it didn't work out that way. He struggled and it turns out he's more of a right tackle and maybe even a guard at the next level.
"You can't take it for granted, but certainly McGlinchey showed pro talent last year at right tackle and if he can perform that well and continue to improve on the left side, it's going to make him that much more valuable."
McGlinchey redshirted in 2013, so he is eligible to remain in South Bend for two more seasons. The decisions paid off for Zack Martin and Stanley, who each passed up the NFL Draft following their senior and junior years, respectively, and improved their stock the following year.
Quenton Nelson, OG
Nelson clearly has an NFL future, but the question is whether it will be after the 2016 or 2017 seasons. The Holmdel, N.J., native entered the starting lineup in 2015 and, along with Stanley, formed a dominant duo on the left side of the offensive line.
His junior season in 2016 could set him up for an early entry into the draft. While guards are not the coveted commodities that tackles are, Nelson could range anywhere from a top-25 to top-50 pick depending on this fall.
"Quenton Nelson, he's a big dude too. Man," Wright said. "That guy's going to be a top 100 pick I think as an offensive guard, which is saying something. You don't have a ton of offensive guards going in the top three rounds but he sure looks like one to me."
Torii Hunter, WR
With Will Fuller and his 29 touchdowns from the past two seasons off to the NFL, Hunter has an excellent opportunity to become Notre Dame's go-to option in the passing game this fall.
Hunter has shown flashes of brilliance in his career, but he elevated his game this past spring and looks to be both a vertical threat and a scoring threat on a consistent basis.
Like McGlinchey, he redshirted in 2013 and is eligible for a fifth year in 2017. That, however, depends on just how productive he is this fall.
"Torii Hunter looks like he's going to be the No. 1 receiver going into the year and certainly has excellent bloodlines," Wright said. "He's got good size and is a great athlete and there's a lot of catches to go around with what Notre Dame has lost at that position. It's going to be a big opportunity for him."
DeShone Kizer, QB
Kizer might be the least likely of this group to even be in the 2017 NFL Draft, but he has the size and attributes that scouts at the next level covet.
Obviously, the first step for the Toledo, Ohio, native is to hold on to the starting signal-caller position this offseason in the competition with Malik Zaire. If he does that, Notre Dame's style of offense will certainly allow him to showcase his abilities.
"DeShone Kizer is really intriguing," Wright said. "He certainly appears to have all of the tools. He's a big guy. He can make all the throws. He's got a strong arm. He seems to have that clutch gene where he makes those big plays when it matters the most and can move a little bit. I was certainly very intrigued by what I saw from Kizer. With quarterbacks, you prefer the longer they stay the better. Absolutely he has pro potential, even early-round pro potential."
Tarean Folston, RB
Folston suffered a torn ACL only seven snaps into his junior season in 2015, which set back his professional clock a bit.
The Cocoa, Fla., native considered entering the 2016 NFL Draft, but decided the smarter move was to return to South Bend and produce again following the knee injury.
Even with third-round pick C.J. Prosise in the NFL, Notre Dame boasts plenty of talent at running back. Folston will be joined by sophomores Josh Adams and Dexter Williams near the top of the Irish depth chart.
Technically, he is also eligible for a fifth year in 2017, but that seems extremely unlikely for someone that has already toyed with the idea of entering the draft and plays at a position where players try to keep their mileage down as much as possible before reaching the NFL.
"Tarean Folston I think is going to come out," Wright said. "He'll be more of a Day 3 type of what I call meat and potatoes runner. Not particularly flashy, but a good all-around player."