Beal Full Of Potential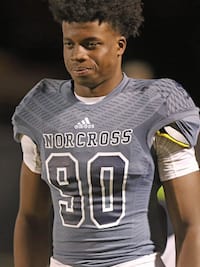 New Notre Dame defensive end commit
Robert Beal
has a chance to be one of the top pass rushers in the country over the next couple of years. At least that's what his trainer Nathan O'Neal thinks.
O'Neal, who mentors Green Bay Packers defensive end Jarius Wynn and New York Jets defensive end Quanterus Smith in the offseason, said this past weekend, after the Norcross (Ga.) High junior gave a verbal pledge to play for Notre Dame, that the Irish are getting a defensive end that fits the mold of a guy that has a future in the NFL.
"The one thing I can tell you is that the kid has the potential to be a first-round draft pick one day," O'Neal said.
"When people ask me to compare my guys, I'll be honest with you, I don't really do that. Everyone wants always wants me to compare him to [former Norcross standout and current Georgia linebacker] Lorenzo Carter, but I don't really do that. Robert Beal is Robert Beal. I have trained a lot of great guys, and if I had to compare Robert Beal to anybody, it would probably be Robert Quinn of the St. Louis Rams. Just the way he runs, and the fast hands, there's such an explosion there."
While it might sounds like a bit of a stretch to put Beal in the same category as a two-time Pro Bowler and the NFL's sack leader in 2013, there's a reason why O'Neal made the comparison. He thinks that the 6-3, 220-pound Beal is just scratching the surface when it comes to learning the position.
"A lot of people don't know that he's going to be 17 when he gets to college," O'Neal said. "He's real young. We had to be a little cautious with him in the weight room this year because of some growing pains and growing issues, but the boy is probably going to be 6-6 or 6-7 at the end of the day. This offseason I'm finally going to be able to turn loose on him and add 30 pounds of muscle on him. The things he's going to do as a senior and then at Notre Dame, are going to be eye popping."
And that's good news for the Irish, because Notre Dame has struggled the past few recruiting cycles to ink highly-ranked defensive ends and that has reflected on the field.
"It's just a different position," Notre Dame recruiting coordinator Mike Elson said at Media Day back in August. "I think our evaluation process is pretty solid. It's just an individual basis that we lose a guy or two here or there."
But the Irish didn't miss on Beal, who is ranked by Rivals.com as the No. 6 outside linebacker in the country and the nation's No. 129 overall prospect in the class of 2017.
O'Neal said that when he traveled to South Bend with Beal back in June, it became pretty clear that Notre Dame was going to be the team to beat, even with offers already on the table from Georgia, Alabama, Clemson, Auburn, TCU and Florida State.
"When we went up to Notre Dame for the Irish Invasion, they showed him a lot of love, and what Notre Dame is about, but Notre Dame is a different type of place," O'Neal said. "The biggest thing that hit home with him was on the academic side of things. Robert is an extremely intelligent kid and academics come first for him. So when we got up there and he started finding out about the class size, how they will set him up for life after football, the alumni pipeline, and the African American graduation rate - everyone just had to start playing catch up."
But the Irish weren't going to let anyone else gain traction in the recruitment.
According to O'Neal, Notre Dame defensive coordinator Brian VanGorder made the pitch to Beal simple. The former NFL defensive coordinator told Beal that he was the type of prospect that could use his athletic ability to make an impact anywhere in the box.
O'Neal agrees.
"To me, when Robert shows some of the his 'freakish' stuff, it comes on the field. It took me no time to teach him separation and how to attack with his hands, get around and explode. Robert is so fast, and as big as he is, he runs a 4.51 [40-yard dash] and I promise that number can drop," O'Neal said.
"He can play that five-technique because he has a great understanding of leverage and create separation very well. He can play that seven-technique and he's also a kid that you can stand up as an outside linebacker. He's such a great athlete. He's going to have so many options because he can play all over the field, and I have no doubt in my mind that Coach VanGorder is going to make him successful."
But 'successful' might be selling Beal short.
The Georgia native is already in line to become the highest ranked defensive prospect to sign with Notre Dame out of the Peach State since Isaac Rochell back in 2013.
That appears to have Elston and the rest of the Irish coaching staff excited.
"Who doesn't love a great pass rusher?," Elston tweeted last Sunday night.
Well, we know that Notre Dame does.