Catching Up With Notre Dame Signee Troy Pride Jr.
Greer (S.C.) High cornerback Troy Pride Jr. signed with the Irish this February over offers from Clemson, N.C. State, South Carolina and Tennessee among others.
As he prepares for his transition to college football this summer, Pride spent this spring working out and running track for Greer High, including winning four Class AAA state titles for his school.
The Notre Dame signee won the sprinting triple crown for his class in South Carolina, including the 100-meter dash (10.55 seconds), 200-meter (21.28) and 400-meter (48.28). His team's 4x100-meter relay also earned a victory with a time of 42.2 seconds.
Blue & Gold Illustrated caught up with Pride after the conclusion of his track season as he readies himself for South Bend.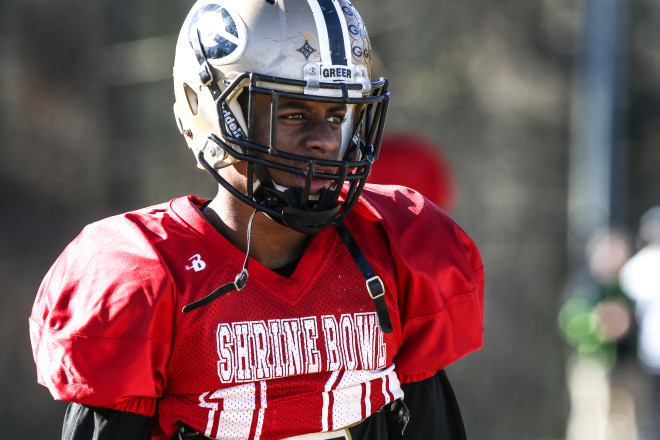 Blue & Gold Illustrated: What workouts have you been doing in the offseason?
Pride: "I had a workout plan given to me three days after Signing Day, and I was in that religiously. Then track began, and for a major portion of the track season I was still doing it.
"Then I started to go up in weight, and it was affecting my running, so I had an equilibrium of weight that I used where I set it at one weight, so I wasn't straining myself where I started running bad. Now I'm back to the full swing of it, onto Phase 2 with heavier weights so I can be mentally and physically ready for the toll that Notre Dame will take."
Blue & Gold Illustrated: So what was your weight at Signing Day, then how much did it go down in track and what's it at now?
Pride: "At Signing Day I was around 180 [pounds] because I had been lifting already, then I stayed at that for most of the track season. I dipped right before state to about 175, then I weighed myself today [May 18] and I'm back up to 177. I've got protein and heavy weights so I hope to get up to 182 or 183."
Blue & Gold Illustrated: Is that the weight Notre Dame wants you to be at, 182 or 183?
Pride: "Well, they never gave me a weight requirement. They like my skills regardless. I've given that to myself because I understand it's a physical game, and just the weight that I want to be at to succeed. I don't want to have any hiccups coming into my freshman season."
Blue & Gold Illustrated: How much do you talk with the coaches in the offseason?
Pride: "I've talked to Coach [Mike] Elston frequently. He gives us the stuff like our playbook. Coach [Todd] Lyght came on a visit last week, he sat down and ate dinner with us. I've talked to Coach [Autry] Denson about my track accolades and the things I've done. They talk with my parents too. So it's been frequent conversation. They understand what I'm doing and I understand what they're doing."
Blue & Gold Illustrated: Have you talked about expectations with them going into this year?
Pride: "Not really. But I know it's going to be very competitive. And with how competitive I am, I've already set goals for myself with where I want to be.
"They haven't told me 'you have to do this or that,' but I'm continuously grinding. There's no complacency. I want to be the best; I've said that from Day 1 and now that I'm getting up to Notre Dame, that's not going to change. I'm going to continue to try to achieve all my goals and do everything I can to be the best."
Blue & Gold Illustrated: Are you requesting a jersey number?
Pride: "Not really. This was also a problem at Blue-Grey [All-American Bowl], I asked for a couple and they weren't available, so then I was like 'I don't even care. I'm going to ballout anyway.'
"And from Blue-Grey on I've said that. I could be a number 63, and I'll go out there and be a lockdown 63. They had me send my top three numbers that I'd like to have, but I'll ball in any number they put me in."
Blue & Gold Illustrated: 63, that's hilarious. Well do you at least have a favorite number?
Pride: "There's certain numbers that do hold a special place in my heart. One of those is 17. From my Little League days, really that's where my love for football came from. It was the first number I ever picked. It was really random and they asked, and I just said 'let me get 17'. From then on I played in it. I won in it; I lost in it. I grew fond of it."
Blue & Gold Illustrated: Do you know who you're rooming with?
Pride: "Yeah we found out last week, I'll be rooming with Donte Vaughn. We're both corners so we'll get the chance to chop it up a little bit, talk about practices and all that stuff. It will be a good experience. I can't wait to meet him; I'm really looking forward to it.
"We have our 2016 signing class group message, and once we got the assignments I expressed that our room was going to be the best room for the whole summer workouts."
Blue & Gold Illustrated: Winning those four state titles in track was pretty impressive. What's your favorite race, the 100, 200 or 400?
Pride: "The 400 has always been my baby. That's been the race that's kept me sane, and made me the person I am today. It's made me mentally tough to where I'm pushing through different obstacles in life.
"At state, though, to win the 100 – all year I ran 10.7. Nothing under 10.7. To go out there and win state by running 10.5 was really special for me. It set the tone for the day and set the tone for my mindset. It showed I can do anything I put my mind to, because I had always told myself I was a 10.5 sprinter. So to go out there and do it, that was really good for me."
Blue & Gold Illustrated: Where do you find the endurance to win the 400 compared to the 100 and 200? For a football player, you'd figure you were much better suited for the shorter sprints.
Pride: "I really feel like it's just me pushing through. It's just the competitor I am. I always want to fight and I'm always fired up.
"It's symbolically pushing through all the problems, the obstacles of life and finishing strong. That's what it's all about to me. When you get to the end, everyone's gassed and it's about who really wants it, who's strong enough to push through it."