Irish Fall 78-47 To No. 7 North Carolina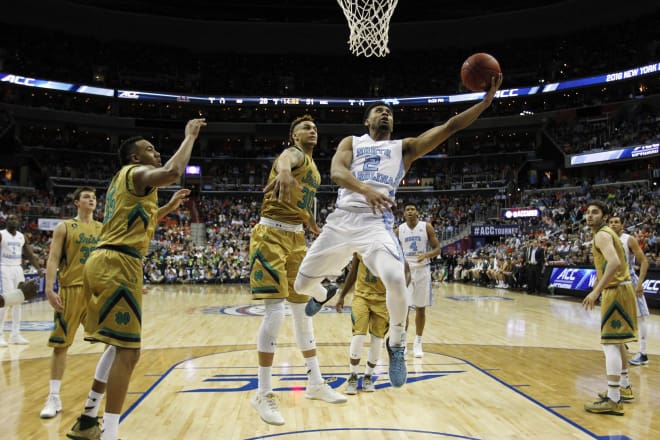 WASHINGTON, D.C. — Notre Dame was hoping to repeat its magical ride of last year, but North Carolina had other plans Friday at the ACC Tournament.
North Carolina went on a 24-0 run that spanned 9:34 between the first half and beginning of the second to roll to a 78-47 victory. UNC set a new ACC Tournament record for margin of victory in a semifinal game. The Fighting Irish fell to 21-11, but feel good about their chances to get a decent seed Sunday and regroup in the NCAA Tournament.
Notre Dame reached the Elite Eight last year, and will be hungry to prove themselves yet again. Falling to North Carolina (27-6 overall) hasn't dampened that resolve.
"I thought they were fabulous and I thought their defense was a different level than what I had seen or what we played against in South Bend," Notre Dame coach Mike Brey said. "We had nowhere to go.
"We could make our travel plans at halftime. Let me put it that way, that's how tough it was."
Notre Dame senior center Zach Auguste simply said it's the worst feeling ever.
"It's hard to swallow, but it is what it is," Auguste said. "I don't want to go out like this again. All I can ask of my teammates is to give everything they have [in the NCAA Tournament], and have fun with it."
The halftime mood was a mix of emotions, including shocked a little bit at the 41-22 score. Notre Dame trailed by eight at halftime against Duke on Thursday, but 19 was a little more daunting.
"We were in a hole and we couldn't dig ourselves out of this one," Notre Dame junior point guard Demetrius Jackson said. "We've been in holes all season long, and done a solid job of digging out. This one kind of got away from us."
Notre Dame accumulated two wins over Duke, a season split with No. 7-ranked UNC, and wins over the likes of Louisville and Iowa this season. The players feel as if they can handle whatever style of play they face because the ACC is one of the best leagues in the country.
"We've played a great schedule and I think it will prepare us a lot," said Auguste, who had six points and 10 rebounds. "I think we are ready. We just have to tune up some things, and come back and get our edge back."
The Tar Heels set the tone early by cleaning the defensive boards, and in turn pounded it inside as often as possible. The trio of senior Brice Johnson and juniors Kennedy Meeks and Isaiah Hicks seemingly took turns against Notre Dame's defense, whether they were in zone or man-to-man. They scored 13 points in the first 13 minutes of the game, and UNC led 23-20.
Notre Dame junior small forward V.J. Beachem picked up where he left off from the Duke win Thursday. He drained a pair of three-pointers and had a beautiful drive to the hoop for a quick eight points, but the rest of the team combined for 4-of-13 shooting in the first 13 minutes.
The first 13 minutes proved crucial for both teams because both Meeks and Johnson picked up their second fouls right after that mark. Notre Dame sophomore power forward Bonzie Colson joined the two-foul club with 4:07 left in the first half, and junior shooting guard Steve Vasturia got his second 19 seconds later.
"We went small at that time," UNC head coach Roy Williams said. "I think we were very active. We didn't foul them as much as we'd been fouling them before."
Meeks and Johnson went to the bench, but the Tar Heels defied the odds and played even better. UNC went on a game-deciding 18-0 run to close out the first half, and led 41-22 at halftime.
"A lot of guys came off the bench and gave them energy," Auguste said. "They were playing great basketball and I have to give them a lot of credit. They have a lot of big bodies that can bang around."
Hicks remained on the court, but the perimeter players took center stage. Paige hit two big three-pointers, and had three in the first half to snap out of his shooting slump. He had been 4 of 20 from three-point land over his last three games. Sophomore point guard Joel Berry delivered the final dagger with a three-pointer to end the half. The Berry and Paige backcourt combined for 21 points and five three-pointers in the first half.
"Marcus is the type of player who is really good and can shoot threes," Colson said. "Once he hit one or two, it's hard to stop him."
UNC's 24-0 run came to an end when Colson made two free throws with 16:38 left in the game, and the Tar Heels led 47-24.
"We just couldn't recover today," Brey said. "We couldn't make passes. They contested stuff and had great length. They did do a number on the boards."
Paige added his fourth three-pointer — he finished with a team-high 16 points and seven assists — and the Tar Heels led 70-41, all but ending any hope with 5:57 left. UNC emptied its bench and awaited the chance to play the winner of Virginia versus Miami at 9 p.m. Saturday.
"We feel very fortunate that [Notre Dame] game yesterday afternoon with the five extra minutes with the overtime [versus Duke], I think it did take a lot to take some legs out of Notre Dame," Williams said. "Today, I don't think they had their legs. They had 17 turnovers.
"We played pretty well and happy as we can be to be in the finals."
Needless to say, the rematch was far different from the first meeting between the two teams. Notre Dame won the lone regular-season meeting 80-76 Feb. 6, thanks to aggressive work on the boards, which included a 20-15 advantage on offensive rebounds.
North Carolina pounded Notre Dame on the boards to the tune of 49-31, including a 19-7 advantage on offensive rebounding. UNC turned the offensive rebounds into 20 second-chance points. Hicks led the way with 15 rebounds, including seven on the offensive boards, and he added 11 points and two blocks.
Brey was also frustrated that Notre Dame had an uncharacteristic 17 turnovers. The Fighting Irish finished shooting 15 of 50 (30.0 percent).
"We've been one of the best taking care of it in the country this year," Brey said. "We have to get back to that if we want to survive and advance in the next tournament."
Some of the players won't be watching the ACC championship game Saturday night. The quick turnaround with Selection Sunday will keep the Notre Dame players from dwelling too long on what happened.
"You live and learn, and learn from this game," said Colson, who led ND with 15 points. "It's a blessing to have another opportunity to play in the NCAA Tournament. We just have to move on."