Exclusive Interview With Notre Dame Head Coach Brian Kelly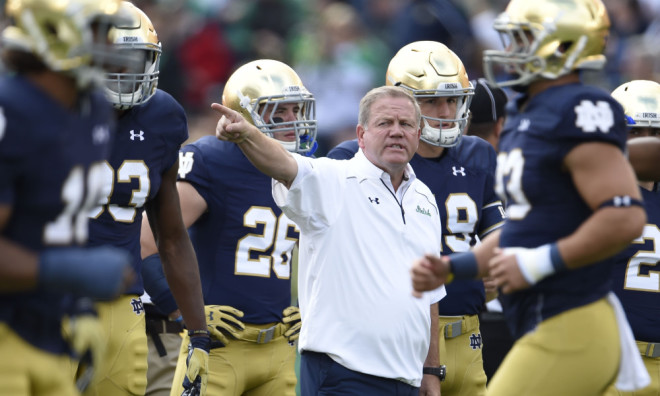 On June 9, Notre Dame head coach Brian Kelly provided a half-hour exclusive interview to Blue & Gold Illustrated for its 160-page full glossy 2016 Football Preview.
Among the topics covered were personnel updates, especially with injuries, dealing with a retooling offense, and the questions surrounding defensive coordinator Brian VanGorder's scheme.
On the injury front, the shoulder injuries that sidelined linebackers Greer Martini, Te'Von Coney and freshman defensive end Daelin Hayes this spring are all coming along well, and cornerback Nick Watkins' broken arm also is on schedule for healing prior to August camp.
Kelly was especially pleased with the progress of slot/return man CJ Sanders, who had a hip flexor that required surgery this spring. It was expected to limit him well into July.
"CJ is ahead of schedule by almost three weeks, which is really good news," Kelly said.
Kelly, who said an announcement on senior receiver Corey Robinson's future in football would take place on Wednesday (June 15), also revealed that backup junior running back Justin Brent has incurred a Lisfranc fracture and had a screw put in his foot.
"He could be slowed for the first week or two," Kelly said.
Meanwhile, junior defensive end Grant Blankenship was suspended from all team activities during the final week of spring drills, but he is scheduled to be in summer school starting on Monday (June 13). Before he gets back to team activities, there are a number of boxes he will need to check off on a "to do" list given to him for the summer. At the conclusion of summer school, an evaluation will be made if he fulfilled all the requirements.
Here is a small sample of our more than two-dozen question-and-answer session with the head coach:
Blue & Gold Illustrated: Last year you said the quarterback had to be an integral part of the running game if this offense is to be successful. The QBs accounted for 719 yards rushing in 2015, the third best in school history. Are you looking for something similar this year from DeShone Kizer and/or Malik Zaire?
Brian Kelly: "The way teams were playing us defensively, we felt the quarterback needed to be added into our offense as the second runner. Quite frankly, the way our offense is set up as a one-back alignment, it's hard to have an effective running game without the quarterback being involved. If it's strictly a one-back offense, it's too easy for the defense to hone in on that running game.
"So to expand the running game, that quarterback has to be part of it. Either that or you need to be in more heavy sets with multiple tight ends."
BGI: Do you see this offense staying mainly with 11 personnel (one back, one tight end, three receivers)? We ask because your best depth appears to be at quarterback and running back, whereas receiver is less proven. Do you try to find more of a balance with more tight ends or a second back?
Kelly: "Part of what we'll do is find out whether we can establish a similar offensive structure with the next guy up. Can we have a similar offensive structure to last year with Equanimeous St. Brown, with Corey Holmes, with CJ Sanders (the three have two combined career catches) … whoever that next guy is at the receiver positions?
"If we can't, then we'll look at what the next best situation is formation wise for our offense to function. Is it with two tight ends, or even three tight ends? We'll try to figure that out in preseason camp. We know what we're going to run, and we've got that set. For us it's about formational packaging."
BGI: You're well aware about the criticisms about Brian VanGorder on the outside. His defense is fine for the NFL where players can work on it like an 8-to-5 job, but it's too complex for a college student-athlete limited to the 20-hour NCAA rule. True or false?
BK: False. I've been in that meeting room. I'm in there listening to what's being taught and how it's being taught. There is nothing in there that is too complicated. We have to recruit better and execute better. At the end of the day it's Brian's responsibility and my responsibility to make sure it gets done on defense. The 74th ranking in rush defense (Note: 72nd in the NCAA website at 175.6 yards per game) is unacceptable, and he knows that. Keeping the points down is the most important thing.
"We were transitioning and I feel confident we will see the play on defense this year to … we were one drive away from having a chance to be in the Playoffs last year. I think we'll show defensively that we will be even better."
BGI: Do you feel you've had to pare back on defense the past couple of years, or find that happy medium with a simpler defense you had under Coach [Bob] Diaco?
BK: "I think we've learned some things. The spread offense, the no-huddle stuff, Brian is a lot more comfortable with that going from the NFL to college. I think we also learned a lot about some of the things we had as tendencies last year.
"We sat down after the year and we had our coordinators meet with Ohio State's coordinators, and we did a full one-on-one evaluation of our entire year. They had all our film. We had some good interchange and they gave us some good insight on some things we did really well and some things we were exposed on both sides of the ball."
BGI: I hate asking this because of the immense respect and admiration we all have for Joe Schmidt with his heart and toughness, especially playing hurt last year. But last year Pro Football Focus, which rates every single player, had him ranked the third-worst linebacker in all of college football. Yet because Joe couldn't be taken off the field, that's where the belief of complexity comes from because he's the only one who can set up the defense. Do you still feel it's a myth?
BK: "It depends on how you look at it. Maybe it was a mistake on my part in not having him replaced. I stuck with a senior and showed the ultimate loyalty to a senior captain. Maybe I should have replaced him, and that would render the 'it's too complicated' argument moot, right?
"Joe did a great job of communicating, he's very smart — he had his mistakes too … clearly there were some games where we could have probably helped him out in certain situations …I think we undersold Nyles [Morgan] a little bit, and he knows our defense very well."